Examining Emotional Health and Panic Attacks
In this first video, author Debra Fileta talks about emotional health. As a counsellor, she's talked to many men and women who struggle with emotional and mental health despite being spiritually mature. Debra herself understands that struggle, and she shares her experiences with depression, anxiety, trauma and panic attacks. Watch the video to get started. Then check out the discussion questions, Scripture verse, prayer and additional resources.
Get more out of this series!
After watching video 1, consider taking these steps to get the most out of this part of the series:
// Step 1
Answer these discussion questions:
Do you ever pretend to be okay when you're not? If so, why do you think you feel the need to hide how you're doing?
Why might someone who is spiritually mature still struggle with emotional and mental health?
// Step 2
Read and meditate on these verses: "For I am sure that neither death nor life, nor angels nor rulers, nor things present nor things to come, nor powers, nor height nor depth, nor anything else in all creation, will be able to separate us from the love of God in Christ Jesus our Lord." (Romans 8:38-39)
// Step 3
Spend time in prayer:
God,
You know what I'm struggling with, even if I don't always show it to others.
Thank you for loving me and caring for me, even when I feel like I don't deserve it.
When I'm feeling hopeless, please remind me of that love, and give me wisdom and comfort as I walk this difficult journey.
Amen.
// Step 4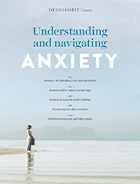 Download our free booklet Understanding and Navigating Anxiety. In this PDF, you'll find professional advice, biblical insights and follow-up resource suggestions to help you better understand and navigate anxiety in your own life, in your marriage, as a parent and specifically with your teens.
// Step 5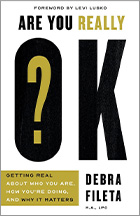 Get your copy of Debra Fileta's book Are You Really OK? Fileta challenges you to get real with who you are and how you're doing spiritually, emotionally, mentally and physically so you can recognize where you need growth and healing. Order your copy of this book today and get $4 off when you use the code*: NOTOKAY

order your copy of this book today