Children Are Human Beings
"Children are the future." We often hear this said, yet we need to remember that children have present value too as image bearers of God. This first video unpacks this idea in greater detail in a presentation from Dr. Kathy Koch – an educational psychologist and the founder and president of Celebrate Kids, Inc. Watch the video to get started, then check out the Scripture verse, discussion questions, prayer and additional resources.
Get more out of this series!
After watching video one, consider taking these steps to get the most out of this part of the series:
// Step 1
Read and meditate on this passage: "Behold, children are a heritage from the Lord, the fruit of the womb a reward. Like arrows in the hand of a warrior are the children of one's youth." (Psalm 127:3-4 ESV)
// Step 2
Answer these discussion questions:
When you were growing up, do you feel like your parents' love for you was based on your performance? Why or why not?
"Celebrate your kids for who they are, not what they do." How do you react to this statement?
// Step 3
Spend time in prayer:

Heavenly Father,
Thank you for our children.
Help us to see them as you do – as inherently valuable for who they are today and not just for their future potential.
Grant us wisdom and grace as we endeavour to instill them with Christlike character and values, for your glory and for the sake of your kingdom.
In Jesus' name we pray,
Amen.
// Step 4
Read the article "Does performance drive your parenting?" by Ted Cunningham.
// Step 5
Read some tips from Dr. Kathy Koch from her book Start With the Heart.
Recommended resource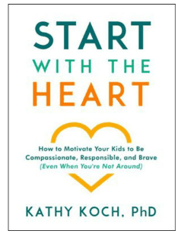 Start With the Heart: How to Motivate Your Kids to Be Compassionate, Responsible and Brave (Even When You're Not Around) by Dr. Kathy Koch will help you change negative ways of reacting to your children and teach you how to guide your children in godly ways through positive interactions that you can feel good about. You'll learn how to change what your children believe so they'll change their behaviour to what is good, godly and right.
Order your copy of this book today
These videos are part of the Lighthouse Voices lecture series made in partnership with the Colson Center.