All the Colors of Christmas Devotional
The season of Advent is a time of anticipation and preparation, a time of celebration of Jesus' coming. Advent is meant to awaken in us a deep yearning for the Messiah – to help us recognize our sinful condition and understand how he comes to free us.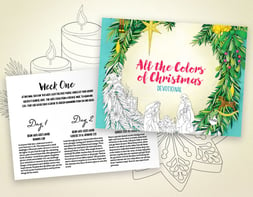 Focus on the Family Canada wants to encourage your family to remain centred on Jesus this Christmas season. Our FREE All the Colors of Christmas Devotional is designed to help parents lead their family through the Advent season and teach their kids about the great story of God introducing Jesus to the world. We hope you enjoy the Christ-centred activities and the exploration of the epic, colourful history of that first Christmas long ago.
Don't miss out! Advent begins Sunday, November 28, which is the fourth Sunday before Christmas Day.