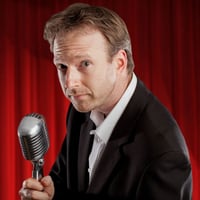 With comedic influences such as Bob Newhart and Jack Benny, Timmy strives for a "classic" experience. While rocking the suit and nursing a glass of orange juice, Timmy kicks it old school as he shares his hilarious perspective of himself and the world around him with a unique blend of casual storytelling and passionate commentary that has brought laughter to audiences across North America.
Even before his 2009 launching of "Up Standing Comedy," Timmy had already been establishing himself as a comedic force while performing on multiple Canada-wide tours. Since then, he has taken his impeccable wit and laid back charm to churches, corporate functions, conferences, camps, schools and theatres while also establishing Canada's first clean comedy circuit.
As an award winning writer, Timmy is a regular performer and workshop presenter at Faithwriters' Conferences and in 2014 celebrated the release of his first book Inside Timmy's Mind. Most recently, Timmy was a featured performer on the Date Night Comedy Tour.