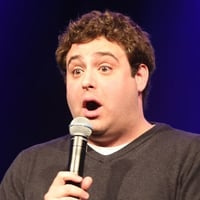 With over 2,800 career performances, Andy Beningo has established himself as one of the most in-demand comedians working today. Hailed for his clean and "every man" style, Andy has been named one of the 40 best up and coming comedians in the U.S., as well as "Best Comedian" by both the Detroit Metro Times and Detroit Hour magazine.
He recently taped a special for Drybar Comedy, and has appeared on AXS Gotham Comedy Live, as a final four finalist on CMT's Next Big Comic, and on the Bob and Tom radio show. Andy's new CD, "Quiet Coyote," regularly plays on Laugh USA on XM Sirius Radio. His rare ability to find humour in subjects like growing up the middle child, his short-lived career as a middle school teacher, and our society's obsession with technology has made him a crowd favourite in audiences worldwide.
Beningo also won the Clean Guys Unbleepable Contest and his stand-up clip on text-messaging premiered before Dave Coulier's The Clean Guys of Comedy movie, which was in over 600 movie theatres across the U.S.