Video 3: Know Whose Voices You Are Listening To
An atheist might ask, "If God exists, why doesn't He write something in the sky to help us know who He is?" or "Where did the universe come from?" But our faith isn't a blind leap in the dark. In video 3, Natasha Crain shows parents how to approach this and similar types of questions from their children. Knowing the answers to these questions – and where and how we got the Bible – will help you point to objective evidence outside your personal experience with God.
Key takeaways from this episode:


Your personal testimony is important. But you can't export your faith to someone else. You need objective evidence outside of your faith experience to help someone else seek the truth.

A good place to start is Scripture. Parents should teach their children where the Bible came from and why we can trust it as true. Bible stories or songs don't answer challenges to history, accuracy and authority.

Point kids to the evidence we have in the physical universe and on earth, then ask good questions, including "What's the best explanation for these things?"


Read and meditate on this Scripture:

"For what can be known about God is plain to them, because God has shown it to them. For His invisible attributes, namely, His eternal power and divine nature, have been clearly perceived, ever since the creation of the world, in the things that have been made. So they are without excuse."
- Romans 1:19-20 (ESV)

Get help from some related resources


// Articles and broadcasts
Hear more from Natasha Crain on the broadcast Answering your kids' tough faith questions
Browse our series page on Apologetics to build your own background knowledge
// Resource suggestions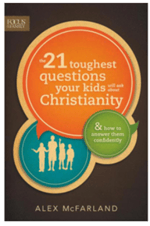 For parents of kids ages 8 to 18, The 21 Toughest Questions Your Kids Will Ask About Christianity from apologist Alex McFarland equips you to answer your kids' questions about God, Jesus, the Bible and the problem of evil.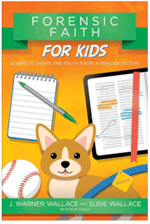 Forensic Faith for Kids teaches kids to think like a detective to solve a case, in the process equipping them with skills that help them navigate tough questions about faith in Jesus. Ages 8+
More for kids from this author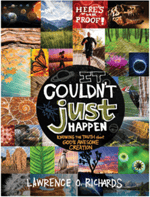 It Couldn't Just Happen offers kids biblical answers to their questions about evolution, providing fun activities and fascinating examples of how God sustains the universe. Ages 7+